Amateur Logic Episode 21
I enjoy viewing each episode of AmateurLogic.TV when they come out. Episode number 21 has been out for a few weeks and I finally made some time to watch it.
AmateurLogic.TV is made by a group of three Ham Radio Operators, two here in the United States, and one in Australia.  They talk about most anything technical, and geeky; and of course much of their subject matter if from Ham Radio.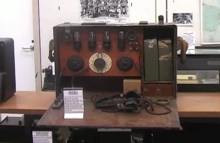 From their website:
Episode 21 features part one of a tour of the very interesting Australian Army's Signals Museum. Tommy gives us a quick look at editing video. George introduces the MFJ-259B Antenna Analyzer and some of it's capabilities. And Peter attends the Wireless Institute of Australia's annual general meeting in Broken Hill where he also visits the "School of the Air", the "Flying Doctors" and more.

It's 1 hour and 10 minutes of Ham Radio entertainment.
Check out AmateurLogic.TV HERE.